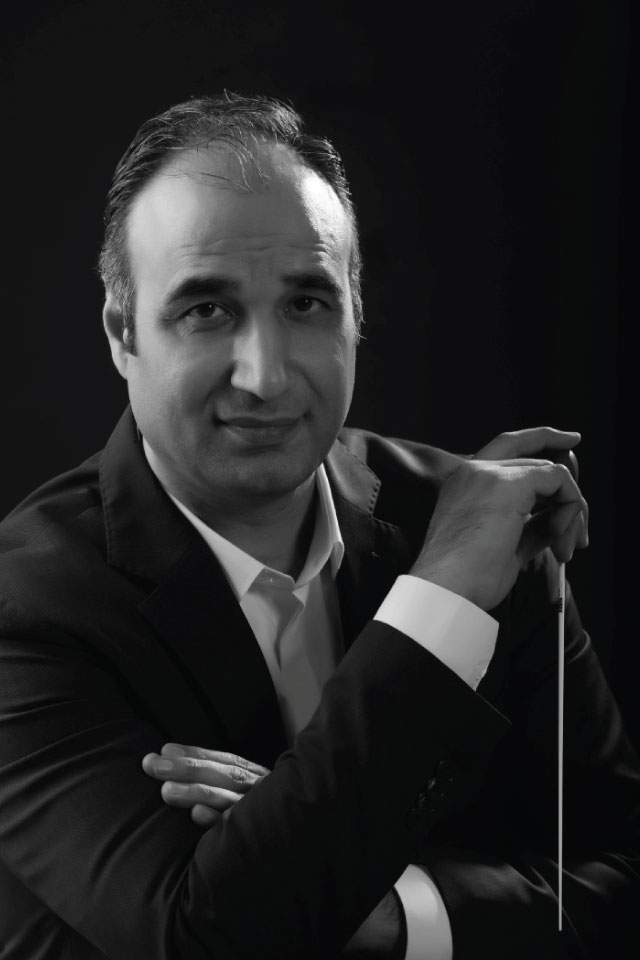 Ali Akbar Ghorbani
Composer, Professor, Author, Conductor
He attended various composing courses, including harmony, counterpoint, orchestration, and musical form taught by Maestro Farhad Fakhreddini.
He also enjoyed master classes on composing held by Khayyam Mirzazade (Baku Academy of Music, Azerbaijan) and on orchestra conducting held by Christian W. Schulz (from Austria) and Nassir Heidarian (form Austria). Academic and Professional Experience:
– Authoring such books as Fundamental Concepts of Music Theory, Orchestration Simplified, Shoor Afarin: A Collection of Iranian Opera for Piano, Song and Piano
-Teaching at IRI University of Applied Science and Technology since 2005
– Being a member of the technical council of Iran's National Orchestra since 2015
– Being a jury member of the Fajr Music Festival, Composing Section, in 2011 and 2014
-Conducting Iran National Instruments Orchestra, Tehran (Farhang) Symphonic Orchestra,
and numerous other performances in Iran; Serper Music Festival, Astana, Kazakhstan;
Vienna, Austria; Bratislava, Slovakia; and Moscow Tchaikovsky Conservatory
– Staging performances in numerous concerts in Iran; Spring Festival 2016 in Shanghai, China;
the UAE; Sweden; Tirgan Festival, Canada; Rive Del Garda Festival 2009, Italy; World Choirs Championships 2009, South Korea; World Vocal Ensembles Championships 2009,
Barcelona, Spain
– Composing pieces of music for movies and animated series
Join our Teaching staff
We are always looking for talented teachers to join our teaching staff.
Start Learning Instrument Today 
30 Min Free Assessment.