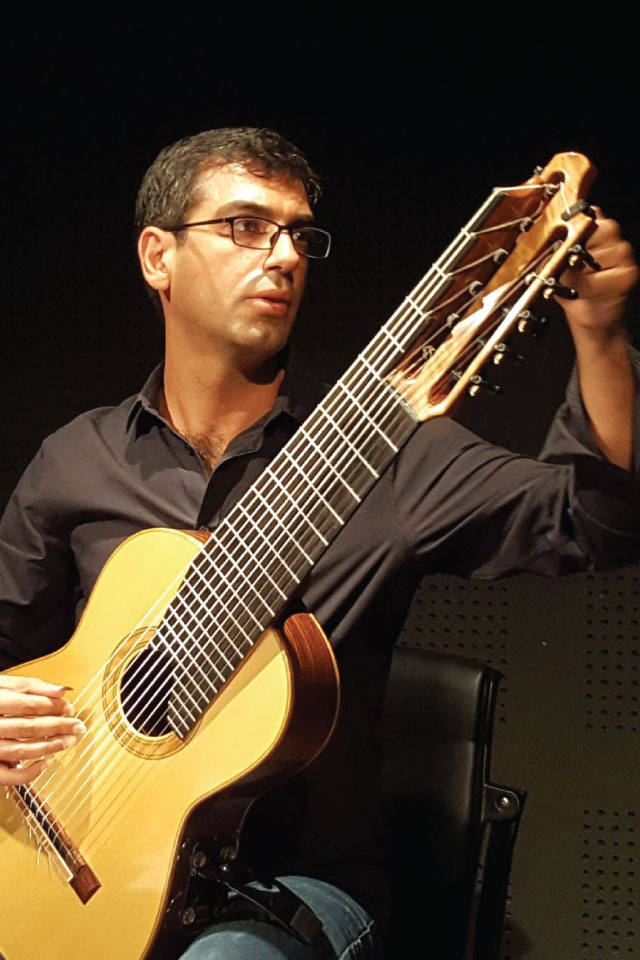 Afshin Torabi
Guitar Teacher
 
Doctor of Musical Arts. Classical Guitar performance. Afshin received his doctorate on music, classical guitar interpretation at Laval University under the supervision of Richard Paré and Rémi Boucher and Michel Cardin; his thesis is entitled "Adaptation of the Sonatas by Silvius Leopold Weiss for Modern Guitar". , and he is working in a stage "POSTDOCTORAL RESEARCH with a grant, FESR" at the University of Moncton with Michel Cardin on the subject "Preliminary analysis of the 14 so-called Weiss maturity suites".At the moment Afshin is a "Visiting scholar" at university of Toronto with great Jeffrey McFadden.
Raised in a musical environment, guitarist Afshin Torabi, of Persian descent, received his first classical guitar at the age of 10 and, alongside his instrumental apprenticeship, studied theory and contextual studies of harmony. He continued his training at the "Gnessin Music College", in Moscow, where he studied with the famous Russian guitarists Alexander Vinitsky and Nikita Koshkin, then at the Conservatoire de musique de Québec, with Rémi Boucher, and at Laval University from where he obtained his master's and doctorate in interpretation.
Afshin Torabi has performed on several stages in London, Quebec City, Montreal, Moscow, Istanbul and has also performed in many cities of Iran. He was invited to participate in the international Fajr festival in Tehran, international guitar festival in Istanbul, International guitar festival- Rouyn Noranda , and to perform at the BBC in London. "
Afshin's recording of Weiss under supervision Richard Paré admired by many amazing musicians such as : Andreas Koch- Göran Söllscher- André Papillon -Sylvain Bergeron-Michel Cardin – Andre Rodrigues -….
Join our Teaching staff
We are always looking for talented teachers to join our teaching staff.
Start Learning Instrument Today 
30 Min Free Assessment.